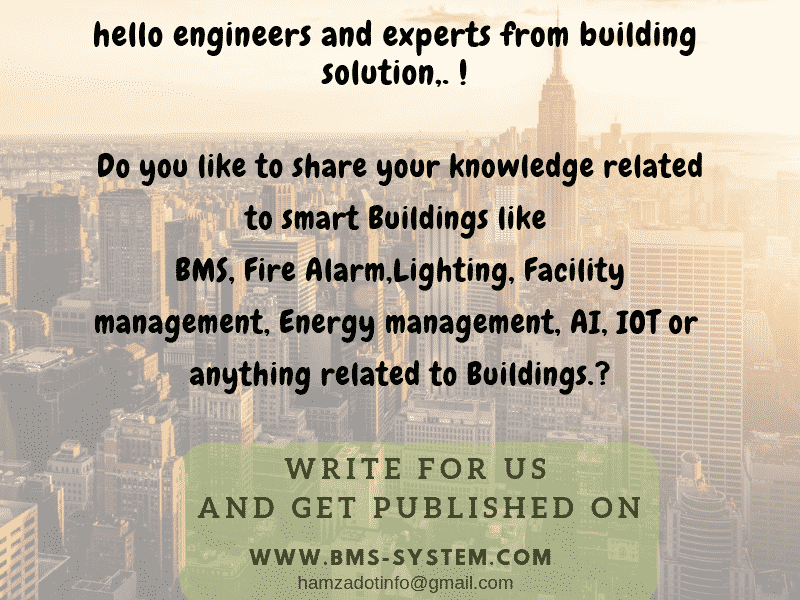 Welcome to Our Write for Us page. BMS-System is the blog all about building automation system. We thrive to share more informative and original content with our readers. 
So, If you have the passion for writing quality content then you are the right place. Our Blog readership is constantly growing and we are trying to connect with more people. 
If you are really passionated and interested to share your knowledge to our readers on following 
Building management system.

Fire alarm system.

Lighting control system.

Access control system.

CCTV.

Networking.

Artificial intelligence(AI).

Internet of Things(IOT).

Mechanical,Plumbing and Electrical related to buildings.

Facility Management System.

Energy Management System.
We are not limited to some content. You are always welcome to share your posts ideas with us. if we think it suits our blog niche, we will publish it. We also have some terms and guidelines for posting and We request all of our  Authors to comply with these norms. This will help us to keep our blog more relevant and informative.

Benefits
Sharing knowledge to others it will not only benefit to others, rather to you first .
Article published with your author name and bio.

Terms and Guidelines for Guest Posting

Here are some of the guidelines that you have to comply before sending us your guest post. You must have to follow these guidelines.
Your Article must be unique and Original.
We only accept quality Posts. So, Make sure you send only quality posts. 

Do not submit copied, scraped.

Your article must be free of spelling and Grammatical errors.

We reserve the right to made the necessary changes to the article.
Once your article gets published,

You should not able to publish it anywhere else due to it will be consider as duplicate content.

We appreciate images in the post. So, you can send images along with your article. 

Your images must be free of copyright. If necessary attribute them properly.  We respect others hard work. So, don't send copyrighted material to us.

 Finally,Are you ready to start

Write and send it to us hamzadotinfo@gmail.com